INTRODUCTION | INDUSTRY STRUCTURE | POLICIES | TELECOM SERVICES | GLOBAL SCENARIO | CONCLUSION
---
By end March 2000, with a capacity of 32.6 mn lines and 26.5 mn working connections, India's telecommunication network ranked among the top 15 national networks in the world. However, for a country of India's size, with an estimated population of over a bn and a population growth rate of nearly 1.5% p.a., the current all-India telephone density of 2.8 telephone lines per 100 persons compares unfavorably with global benchmarks. The penetration is nearly 50 per 100 in the US, 10 per 100 in Brazil, with the global average being 11 per 100. With the present growth rate of about 20% p.a., India's teledensity is likely to touch only three per 100 by the end of 2002.
India represents one of the world's largest, underdeveloped telecom markets. It has a strong, high-consumption middle-class population of around 300 mn. The current low telephone penetration offers telecom companies substantial growth potential in India, along with the opportunity to adapt newer technologies for the feasible and continuing change that is sweeping through the industry worldwide.
The Department of Telecommunication (DoT), now known as Bharat Sanchar Nigam Ltd. (BSNL), is India's single largest provider of telecom services. Since 1992, when the telecom sector was opened to private players, the main thrust has been on achieving twin goals-promoting efficiency through competition; and establishing world-class networks to maximise universal access to telecom services.
The opening up of the telecom sector was greeted with a lot of optimism about the potential and spread of telecom services. Enthused, many private operators bid for telecom circles at high licence fees. However, the high investment requirements were not matched by a corresponding increase in revenues. With the subscriber base not swelling fast enough, and airtime usage remaining sluggish, business plans began to fail.
The telecom sector is now witnessing renewed interest, with the government initiating steps to improve infrastructure and increase the penetration rate. As the Indian telecom sector moves to wireless and data-based communication, competition and regulatory changes are taking place at a brisk pace and redefining business strategies. Business models are becoming more flexible and embracing new ways of doing business. The Indian regulatory authority, the Telecom Regulatory Authority of India (TRAI), has re-examined old laws.
The implementation of the New Telecom Policy (NTP) 1999, which allowed existing private operators to migrate from fixed-licence fee to a one-time entry fee plus revenue sharing, has expectedly led to the improvement in project viability of many basic and cellular service projects. It has set in motion a rapid and desirable transformation in the sector. There are already signs of many private operators breaking even and moving towards profits.
However, the privatisation process has been marred by delays, changes in policy guidelines, allegations of corruption, and a bureaucratic licensing regime. As a result, the initial momentum of privatisation appears to have slowed down considerably. The recent government policy initiative to open up National Long Distance (NLD) telephony to competition and end VSNL's monopoly over international long-distance telephony by April 2002 will remove hurdles (including the availability of bandwidth) and benefit the customer by improved performance, and a better quality and range of service.
There is still a huge wait-list of telephone connections to be provided. The main reason for this is that private sector participation has not been up to the government's expectations. Of the 13 licences that have been granted for basic services, only three have been operational (Hughes Tele.com in Maharashtra, Bharti Telecom in Madhya Pradesh and Tata Teleservices in Andhra Pradesh). All the three companies have been unable to meet their service commitments, and, in most cases, have failed to deliver any service to the rural areas.
Telecom Service
The telecom sector is governed by outdated laws such as The Indian Telegraph Act, 1985 and the Indian Wireless Act, 1933. There is a need to revamp the existing laws to enable convergence in the sector.
India's telephone network, which was set up in 1851, was first managed by private firms. In 1943, the Indian government nationalised the sector. Until 1985, the Department of Posts and Telegraphs and the Ministry of Communications administered the telecommunications and postal services. Thereafter, the two services were separated, and the Department of Telecommunications (DoT) was created to oversee telecom services.
In 1986, two government-owned corporations, Mahanagar Telephone Nigam Ltd. (MTNL) and Videsh Sanchar Nigam Ltd. (VSNL), were established. The former took over the operations of the telecom and telex networks in Delhi and Mumbai, while the latter was made responsible for international operations.
Recently, on 1 October 2000, the government corporatised the Department of Telecom Services (DTS) to form Bharat Sanchar Nigam Ltd (BSNL).
Revised 9th Five Year Plan Target (1997-2002)
| | | |
| --- | --- | --- |
| Item | Unit | Target |
| Net switching capacity | mn lines | 30.24 |
| Direct exchange lines | mn lines | 22.57 |
| Village public telephone | '000 | 279 |
| Transmission systems | | |
| Microwave & UHF | Route Kms | 70,000 |
| Optical fibres | Route Kms | 270,000 |
Telecom Equipment
Until 1984, the manufacture of telecom equipment was exclusively reserved for government enterprises - Indian Telephone Industries for switching, transmission and terminal equipment; Hindustan Cables for cable products; and Hindustan Teleprinters for telex machines and modems. Thereafter, the government allowed the private sector to enter the manufacture of telephone instruments, cables, transmission equipment and small switching exchanges developed by the Centre for the Developmenf of Telecommunications (C-DoT). The manufacture of large exchanges has also been thrown open to the private sector. At present, the private sector is allowed to manufacture the entire range of telecom equipment.
Apart from a few large public and private sector companies, medium-sized units dominate the industry. The role of the public sector is on the decline and its presence is mainly in exchanges and transmission hardware. Switching equipment constitutes nearly 45%, by value, of the total production, followed by telecom cables and other transmission hardware (38%).
There has been a reduction in rates of basic customs duty on several telecom items. Custom duties on many of the items will be "zero" per cent as per the WTO agreement.
Rates of customs duty: (%)
| | | |
| --- | --- | --- |
| Items | 1999-00 | 2000-01 |
| Optic fibres | 25 | 15 |
| Individually sheathed fibres | 25 | 15 |
| Other optic fibre cables | 35 | 25 |
| Pager and their parts | 25 | 5 |
| Radio trunking terminators | 25 | 5 |
| Ethernet switches | 15 | 5 |
| PWD multiplexing equipment | 25 | 5 |
Telecom Regulatory Authority of India
It is now widely recognised that there is need for a regulatory mechanism to facilitate competition and enhance efficiency in the telecom sector. In India, one major problem with the regulatory framework was that the Department of Telecommunications (DoT) played a dual role of being both a regulator as well as a service provider. In order to ensure a level playing field and to separate the functions of DoT (now know as BSNL) as the regulator and an operator, the government set up an autonomous regulatory body, the Telecom Regulatory Authority of India (TRAI) in March 1997.
TRAI was created to arbitrate between DoT and private operators with respect to licensing issues, technical compatibility and setting up of tariff. However, since the role of TRAI under the TRAI Act, 1997 was unclear, protracted litigation ensued. In an effort to remove ambiguities and put an end to the controversy surrounding the regulatory authority, in January 2000, the government promulgated the TRAI (Amendment) Act, 2000 to reconstitute the powers of TRAI. The Act redefines the role of TRAI by bifurcating it into two bodies, one acting as the regulator and the other acting as the adjudicator, in the form of a tribunal.
The ordinance allows the new TRAI to set tariffs and fix terms and conditions under which the operators can interconnect with others. It also requires the government to seek recommendations from TRAI before issuing a licence. The judicial powers were vested with the Telecom Dispute Settlement and Appellate Tribunal, which will adjudicate appeals of service providers. Any appeal against the decision of the tribunal can be made only in the Supreme Court.
India was pushed toward liberalising the telecom sector after a severe fiscal and balance-of-payments crisis in 1991. Specialised services, including cellular, were liberalised in December 1991, when bids were invited from Indian companies for cellular licences in four metros. The licensing process ran into trouble and, after litigation, licences were finally awarded in 1994, and services commenced in 1995. The basic telephone service was liberalised after the announcement of the National Telecommunications Policy (NTP) in 1994.
The 1994 policy announced ambitious goals for provision of telephones (20 mn lines by 2000) and also liberalised the telecommunications sector further. In order to achieve these objectives, the government permitted the entry of the private sector in basic telecom service, to compete with the DoT/DTS. Although licences were granted to various operators under the NTP 1994, private operators were unable to achieve financial closure for various reasons, including the huge licence fees and the tendering process being mired in controversy from the outset. This resulted in delays in rollouts and commissioning of service.
NTP - 1994
Telephone on demand by 1997.
All villages to be covered by 1997.
In urban areas, a PCO for every 500 persons by 1997.
Value-added services available internationally to be made available in India by 1996.
The NTP 94 was considered to be inadequate in addressing the changes taking place in the telecom sector. Subsequent events, like the Asian financial crisis and sanctions by developed countries after the Pokhran nuclear blasts, affected investments in the sector. In March 1999, the government announced the NTP 1999 in a move to ensure project viability and accelerate the subscriber base. However, it emphasised the core objective of achieving high urban and rural teledensity and world-class service at reasonable prices.
NTP - 1999
Allows private operators (both basic and cellular) to migrate from fixed-licence to one-time entry fee plus revenue sharing.
Licence period to be extended to 20 years and further extendable by 10 more years.
Competition to be introduced, with MTNL/DoT being the third operator in areas it wants to enter. It will issue fresh licence based on bidding for the fourth operator.
Monopoly over DoT's domestic NLD service to end on 1 January 2000.
Interconnection between fixed, cellular and other telecom service operators to be allowed freely, without obligation to DoT, at mutually determined interconnect terms from 1 January 2000.
Existing networks of public and private transmission companies, the railways, GAIL, IOC, ONGC and others, will be immediately allowed for use of long-distance data transmission and long-distance voice communication from 1 January 2000.
National long distance (NLD) service, which was hitherto the monopoly of DoT, has been opened up to competition. Guidelines for private entry into this service have been announced.
Policy decisions have been announced at regular intervals of time. With each announcement the environment under which existing players operate is changing rapidly and some of these policies can jeopardise investments. With nearly five months over since the NLD policy was announced there has not been a single player applying for a licence.
Highlights - NLD Guidelines
Unlimited entry for carrying both inter-circle and intra-circle calls.
Total foreign equity (including equity of NRIs and international funding agencies) must not exceed 49%. · Promoters must have a combined net worth of Rs.25 bn.
Private operators will have to enter into an arrangement with fixed-service providers within a circle for traffic between long-distance and short-distance charging centres.
Seven years time frame set for rollout of network, spread over four phases. Any shortfall in network coverage would result in encashment and forfeiture of bank guarantee of that phase.
Private operators to pay one-time entry fee of Rs.1 bn plus a bank guarantee of Rs.4 bn, which would be repayed in four phases. The revenue sharing agreement would be to the extent of 15%.
Private operators allowed to set up landing facilities that access submarine cables and use excess bandwidth available.
Licence period would be for 20 years and extendable by 10 years.
The schedule for rolling out the network is tight given the problem of getting the right of way for building a telecom backbone. To add to this, there is a payment of Rs 1 bn by way of licence fee, and Rs 4 bn as guarantees, which is refundable if it lays out the network in the stipulated time frame. There is also the issue of intra-circle call. There is as yet no clarity on who will carry the call between two cities in the same circle and how much of the revenue will be shared between the originator and the terminator of the call.
In a decision taken in early September 2000, the government allowed private telephone operators to carry international voice traffic. This ended the monopoly of VSNL with effect from April 2002, two years ahead of schedule. The government offered a range of benefits to VSNL as compensation for its loss of monopoly. These benefits would include the waiver of the Rs 5 bn licence fee for NLD operation and compensating with a national ISP licence.
Since inception, reforms in the telecom sector have been hampered by inconsistent policies that have essentially been at protecting the interests of its departments. This has forced telecom investors to scale down their strategies and turn their attention to other promising destinations.
Basic Services
The newly formed BSNL (formerly known as DoT) controls the basic telecom service across India, except in Mumbai and Delhi, where the basic service is provided by MTNL. In accordance with the NTP 1994, bids were invited for basic telecom licences in 21 telecom circles (into which the country has been divided for licensing purposes). Only one operator was allowed in each telecom circle, to work with DoT.
Following the bid, 13 licences were issued to private companies, of which only three are operational. Private basic service companies have commenced operations in Madhya Pradesh (Bharti Telenet), Andhra Pradesh (Tata Teleservices) and Maharashtra (Hughes Tele.com). Of the remaining, nine have been caught up in litigation, while one could end in a re-bid.
The second round of liberalisation has begun in the basic telecom service. The TRAI has recommended to the DoT the grant of 15 new circles and migration of the existing six operators to revenue sharing arrangement from the fixed licence fee. The authority has recommended no restriction on the number of operators.
Telephone Demand, Work Connections and Wait List: ('000)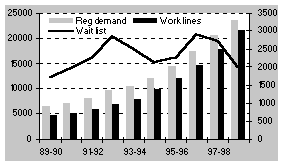 Other basic service providers, like Reliance Telecom and Essar Commvision, are expected to begin their services shortly. The amount of the licence fee bid by these companies has proven to be the major deterrent to the financial closure of their projects. After the inclusion of the revised inter-connection agreement and the assignability clause, the bankability of the projects has improved.
In India, value-added services, such as paging and cellular telephony, have only recently been introduced, and the demand for telecom services continues to outstrip supply.
Cellular Services
Mobile services are presently available in 18 circles and four metros. Licences were issued following competitive bids, after which two licences were issued to each company. Although mobile telephony has not taken off as expected, indications are that the number of users is slowly picking up. Factors like falling call rates (as a result of expanding network), a slew of value-added services, and the reduction in prices of handsets have significantly contributed to increased penetration.
Trends in Cellular Subscriptions: ('000 nos)
Cellular services in India started in September 1995 in the metros and December 1996 in the rest of India. There are eight service providers in the four metros and 34 in the 18 circles. Of late, cellular subscription has been growing at a faster pace. The growth has been mainly due to the increasing subscriber base in the metros, mainly Mumbai and Delhi.
One of the reasons for the faster growth in cellular subscription has been the lowering of tariff rates subsequent to migrating to revenue sharing. In the Union Budget, the government has announced reduction in rates of basic custom duties on several telecom items.
Custom duties: (%)
| | | |
| --- | --- | --- |
| Items | Old | New |
| Handsets | 25 | 5 |
| Cellular phone parts | 20 | 5 |
| Battery packs | 25 | 15 |
The cellular market is also likely to witness increased activity once MTNL and DoT offer such services across the country. As entry barriers get dismantled, penetration of mobile telephony is likely to improve significantly.
Of late, mergers and acquisitions (M&A) activities in the sector have reached a fast pace. The logic driving such M&A activity is that smaller companies are finding it increasingly difficult to spend huge sums of money in implementing new technology, as prices of services are falling. The key players in this sector are the BPL group, Bharti group, Hutchinson group and Birla AT&T.
India uses the Global System of Mobile Communication standard (GSM) for cellular telecom services. However, certain vexing problems remain, like excessive interconnection charges, discriminatory pricing, and denial of adequate share of interconnection benefits.
Paging Services
Radio paging services have been available in Mumbai and Delhi through MTNL since December 1992. In July 1992, the DoT invited bids for radio paging franchises in 27 cities, with a maximum of four paging operators allocated to any one city. As of 1 April 1997, DoT has awarded 106 licences to 19 companies for the 27 major cities. Sixteen of these licences for three companies have since been cancelled. According to the statistics available with DoT, 78 licencees have started commercial services in these cities.
Globally, the telecom sector has been one of the most promising sectors. Companies have been sinking in huge sums of money to develop cutting-edge technology that would deliver everything from Internet over mobile phones to telephone services over cable TV. According to certain reports, capital spending by telephone companies has gone up from $ 42 bn in 1996 to more than $ 100 bn in 2000.
However, the growth in spending has been much higher than the revenues and profits earned from such spending. If this keeps happening and if revenue growth falls below expectations, it will be difficult to sustain the productivity gains that have engineered the current expansion. That will also have serious repercussions for the global economy.
Considerable progress has also been made in optical communication technology, increasing the capacity of communications systems by staggering amounts. The implications of all this will be profound, as voice, data and video will be transmitted at lightning speeds.
The shift to revenue sharing arrangement and the improved regulatory environment have radically improved the investment climate. The big basic and cellular operators are once again seeking to raise funds from the market (equity as well as debt). The future will belong to companies who adapt themselves quickly to changes in technologies. Operators will have to look at value-added services to improve revenue streams. Customers will be benefited substantially with increase in competition.
With the use of internet picking up and expected to grow at a more rapid pace in future, the government will have to address the issue affecting various other player in the sector. The Convergence Bill which is to be introduced should facilitate in adapting to the emerging business realities.